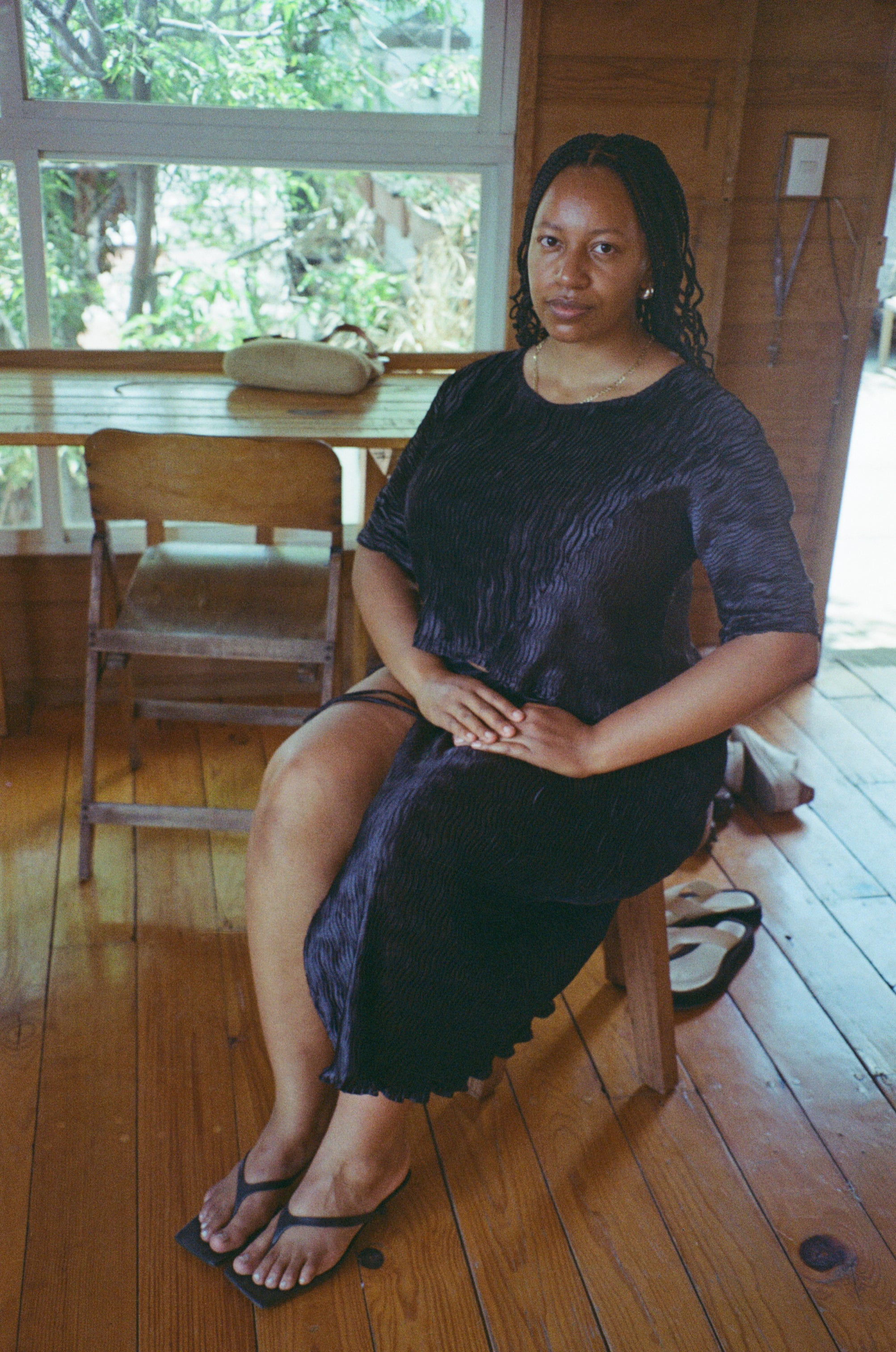 We sat down with Nia Thomas to talk about gender, sustainability and her contagious style.
I met you when it was the perfect time to meet you! At that time I was not interacting with anyone else that had another small fashion brand and when we went to have a smoothie together I remember feeling so inspired. 
Now after about 2 years we are voice messaging each other pretty consistently! I definitely think we have enough material to create our own podcast, the Brittany and Nia show haha, I love how our themes switch from relationships and dating to business dynamics and the general growing pains of entrepreneurialism. My partner knows of our voice notes as the Britt and Nia show because they are so frequent haha. 
I am going to dive right into some questions and pretend this is like our voice note sessions!
What does femininity mean to you? 
Femininity to me is ever evolving and often a juxtaposition. It's being hard and soft. Whatever the current moment is calling for in my life. It sometimes also feels like the contrast of being content and feeling frustrated. Like the times when I am ungrateful to have my period and at the same time happy to feel that release every month.
You mentioned today while I was listening to your notes that you don't like to use terms of unisex with the clothing, whether its womenswear, menswear, genderfluid! What would a Nia Thomas future look for gender and how we label and define gender in our clothing? 
I think the future of gender is breaking down these reminders of genders that we see everywhere around us but have internalized it to the point of not seeing them as they are so familiar. Like when you walk into a store and there is a men's section, women's section, women's shoes section, etc… I hope that in the next 50 years those signs won't be hanging. I know 50 years seems like a long time and it might take less but I think big ships turn slowly.
How do you go about designing a collection for Nia Thomas? How does it start and how does it end? Is there a beginning and an end to it? 
Each collection is a bit different but I definitely like to grow from what I've learned from the past collection like if there's a certain fabric or silhouette or color that people are really trying to. How can I reinvent that and I'm also referencing different cultural moments I have impacted me Whether that's a film or an album or a place that I was lucky enough to visit.
What is your dream for Nia Thomas and the connection it has to others? 
The ultimate dream is to share Nia Thomas with as many people as possible, who would be intrigued about the world that we are building and connecting to and even though they may have different ways of life and customs than I do. That's one of the beautiful things about art is how it can bring something different types of people together.
What does sustainability mean to you? What do you think about other brands using the term sustainable to define themselves and an industry / market? 
I definitely can't speak for other brands, but sustainability to me is a lifestyle, and the concept of that lifestyle is to do things and create things with the planet, and all of its inhabitants in mind, and being as responsible as possible and I know that there are many different ways to do that but there isn't one direct path to follow to be "sustainable".
On this date in 4 years time what are you doing? Where are you? Whats the weather like there?
In four years, I hope I am somewhere tropical with a warm breeze going through palm leaves and drinking fresh, coconut water from an actual coconut. I have a feeling it's in a place I haven't visited yet like Bali or Brazil.
What does a favorite day to you look like? 
Making memories with people that I love. 
What are the top 5 most inspiring things to you? 
Compassion, music, untouched nature, brave individuals who fight for what is right and my family 
If you could choose 3 people to describe your brand (living or alive) Who would they be? 
Solange
Josephine Baker
Carmen Miranda 
What does community mean to you? 
Community is crucial for me to feel safe, loved and heard. I know I wouldn't have made it for two years that I've been living in Mexico City without the community that I have luckily formed there to support me in every way they can.
What have been some pivotal moments in your brands growth? 
There's been so many! :) I am beyond grateful for everything. To name a few: 
Working with world class factories after I would produce everything myself or with friends from design school

Having famous people in my DMs telling me how much they love my pieces and them offering their support.

Working with major retailers that really put us on the map and introduced us to a upscale customer base that is difficult to achieve on our own. 

Traveling the world to do in person pop ups and meet so many incredible people
What have been some pivotal moments in your own life and personal growth? 
Pivotal  moments always happen when I leave my comfort zone. That's where true growth happens. When I am scared and don't know what to do, I talk to people that I trust and always try to follow my gut. Jumping and making the final decision is always the hardest part.
What is something in the past week that made you laugh? 
Re-watching the show Insecure. They put it on Netflix instead of just HBO and I giggle SO hard every episode. It's so relatable to the black experience and brings me so much joy that the show exists. Issa Rae is a genius.
What is on the calendar for Nia Thomas in the next year? Are you planning any pop ups or events? Where can people go to try on your pieces?  
There are some really fun pop ups being scheduled out for the next 3 months to a year! We like to announce our POP UPs very close to the actual event so stay tuned on our instagram @niathomas.co and sign up for our newsletter to be directly notified. 
What is the best advice you have ever received? 
To trust the process. It's so simple but yet a very scary concept for me at times. But it always rings true. 
What is your favorite quote? 
I have this taped to my door so I see it everyday when I need to leave my home and venture out into the world: "When I dare to be powerful-to use my strength in the service of my vision--then it becomes less and less important whether I am afraid." - Audre Lorde
What are you listening to this week? 
My music lately is really all over the place. I've been listening to the salsa classics playlist on Spotify when I was packing all day for my trip. Also on my long walks a lot of this French DJ duo called The Blaze. And at night when I'm cooking and winding down a lot of acoustic Amy Winehouse. Her rendition of The Girl In Ipanema is so fun.
What are you cooking this week? 
It's hot in NYC right now so I want to use my friends grill to make skewers and grilled corn. Also roasted eggplant. And washing it all down with ice cold sparking water.
What is your favorite outfit to wear on a date? 
It depends on what we are doing for the date. I've gone on so many first dates that range from hiking through a steep mountain to a waterfall, to riding on the back of their motorcycle to a mirador or having drinks in a intimate lounge. I always try to dress as practical is needed for the occasion without trying too hard. 
What is your favorite thing to do before you go to bed? 
Light all of my candles and burn a little palo santo only inside my bedroom so the scent stays trapped there and it calms me down instantly.
What is your most common recurring dream theme? 
My dreams rarely have me in it. It's usually some narrator that I don't know but they are calling the shots and I am watching as a bystander. 
What is the best outfit you have ever worn? 
This vintage 1970s Spanish flamenco dress I thrifted in Lisbon for 50€. It's white with peach colored polka dots and so many ruffles. The sales associate told me that several people had tried it on but I was either too big or too long. It fit me like a glove so I knew I had to buy it. Wearing it instantly makes me happy and want to dance.
What is the best outfit that someone else has ever worn? 
I love looking at what everyone wore to Studio 54 in the 1970s. Everyone looked so glamorous from Bianca Jagger to Diana Ross.
Can you tell us about a favorite mirror shot from Nia Thomas?
Any of my selfies in nature with great golden hour sunlight always hit. My mirror selfies in my apartment are always funny as well because I never try to hide the mess in the background.
When do you feel the most connected to yourself and inner joy?
When I am in nature. Surrounded by lush landscapes instead of computer screens and chaotic noises. 
A lot of the time you give me ideas on how I can live my life more freely and unapologetically, you inspire me to be myself and embrace my body and energy and worth. 
Every time I go to your house to hang out I either end up topless and trying on all your things OR we end up cooking OR having a nap. I feel that energy of comfort, embrace and confidence in environment comes through in your creations. Thank you for sharing your beauty and self with the world, its really a gift to us all. I love you Nia!